Since the house edge on the majority of Microgaming's Video Poker games is less than one percent, these tend to be the most played games on any online casino site using the developer – and they can provide hours of fun and winning opportunities.
Many players are having to reduce their gambling budgets in these financially difficult times, so when a player does get the opportunity to give online Video Poker games a try, they want the variants on which the highest payout percentages are offered.
Top Ten Video Poker Games in Order of Payout Percentages
Have a good browse through the following listing for the top ten paying Microgaming Video Poker games. We will give you the long-term expected payout percentages on each variant, however, this is only going to be achieved with optimal play, and this means playing the maximum 5 coins per hand wager on each variant listed.
Don't be tempted to take the double or nothing gamble game which is offered to players when they have been dealt a winning hand combination.
The gamble game will always affect the payout percentage the game has been designed to play out to, and if you have a poor run of luck when taking the gamble option then that is going to see your winning chances, the payout percentage, and your enjoyment of the session plummet. Stick to playing the base games and do not take the gamble game option.
All Aces Poker – No matter how hard you look you are not going to find another Microgaming powered online casino game that has a house edge as low as the 0.08%.
This game has been designed to play out to a payout percentage of a massive 99.92%. If you do enjoy playing Video Poker games then this is the one to start with.
Jacks or Better – The Jacks or Better game was the very first Video Poker game that went live on the Microgaming platform back in the early 1990s, and it seems to be ripening with age.
This game has not changed over the years and is still their second best paying Video Poker title. Due to its pay table, it returns a payout percentage of a healthy 99.54%.
All American – Another popular and very high paying Video Poker game variant that is worth playing is All American. An especially good option for fans of all things stateside.
This is another well-established game which went live in the early years of online gaming and offers a good return since its RTP is certified as being a high 99.38%. The oldies are the best it seems.
Deuces Wild – Those four Deuces found in the deck of the Deuces Wild Video Poker game are Wild, and this results in this game having a rather large list of winning hand combinations listed on its pay table.
When playing this game with all of those wild cards taken into account the payout percentage attached to it is 99.37%.
Aces and Faces – The only major difference between a lot of Video Poker game variants is that the listed pay table hand rankings will have different payouts attached to them, and that is very noticeable when you play Microgaming's Aces and Faces.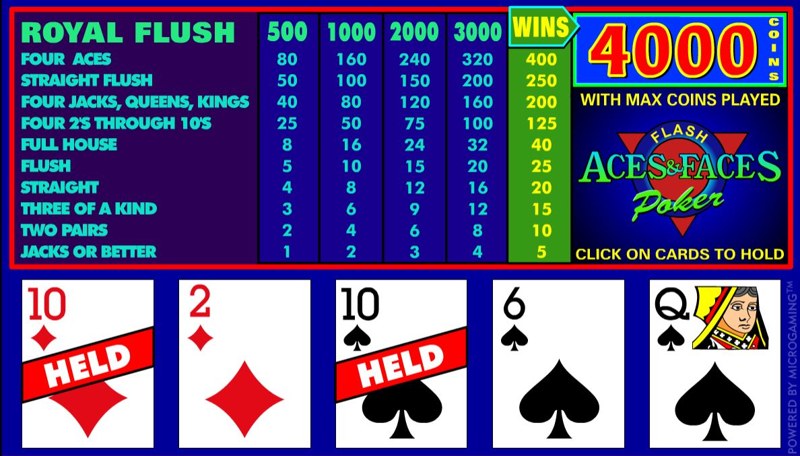 This variant has had the 'Ace' and 'Picture Card 4 of a Kind' hand rankings boosted in value, so this game will return a payout percentage of 99.26 over the long-term.
Bonus Poker – You will notice the long-term payout percentages start to drop quite dramatically at this point, and you might find that confusing since this one comes with a name like Bonus Poker.
However, as its payout percentage is 99.17% there are much more rewarding Video Poker games on offer. Still, this one comes in at number 6.
Bonus Deuces Wild – The one aspect of Bonus Deuces Wild which a lot of players find appealing is that this game can – and often does – award a hand on which 5000 coins can be won.
This is awarded whenever the Natural Royal Flush is dealt out when playing 5 coins per hand; but the lower paying hand combinations have been reduced in value to accommodate this larger jackpot, so this variant's RTP is 99.15%.
Tens or Better – It was probably due to the huge popularity of Jacks or Better that Microgaming designed and released a Tens or Better variant.
However, there are comprises to be made when you are playing this particular game and one of those compromises is that the RTP is comparatively low, working out at 99.14%.
Double Bonus Poker – One other Video Poker variant that has had its pay table slightly tweaked is their great sounding Double Bonus Poker game. The tweaks mean that it offers a different set of winning payouts for certain hand combinations.
 It's not as great as it sounds, though, because it has a rather low RTP of 99.11%. Whilst higher than other games out there, plenty of better paying variants exist.
Aces and Eights – Even though this title has the lowest RTP of any of the top ten, it is still way higher than the majority of Microgaming's other games.
As such, it is always a game worth allocating some play time to due to its certified payout percentage being a respectable 99.09%.