Even though the number of brand new 3 reel slot games has decreased in recent years, many slot players do still enjoy playing these older titles due to their relatively simple to understand playing format, and probably for a dose of nostalgia too.
It is often the case that a three reel slot playing session is a laid-back affair, but it can also give you just as many thrills and spills as a video slot playing session; and should you be a fan of the easier three reel slots we have a wealth of information below which will make selecting one with the maximum winning potential simple.
Top Ten 3 Reel Slot Games in Order of RTP's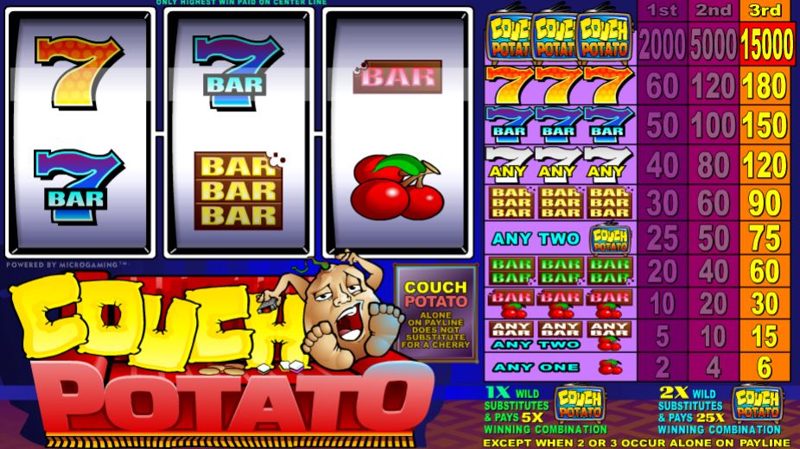 Three reel slots boast all manner of different formats and play structures, and below is a guide to the top ten 3 reel slots which you will find offered at Microgaming powered sites. They are listed in order starting with the slot boasting the highest payout percentage.
Couch Potato –You are not going to find a more appealing 3 reel slot game than Couch Potato.
A massive payout percentage of 97.43% along with its high variance playing format make it a real winner. This is due to some x5 wild multiplier symbols which become x25 multipliers when two of them fall alongside a third reel symbol. The high paying winning combinations are there for the taking if you play this slot.
Cosmic Cat – There is nothing amazing about this single line classic slot other than its high 96.52% RTP. If you like playing slots offering a clutter free playing format then this is one worthy of your attention. You can play one or two coins per spin and there is a wild symbol which can help you complete winning combinations.
It makes no difference how many coins you set this game to play out with, since the jackpot on a one coin spin is 500 coins and simply doubles for a 2 coin spin – so a jackpot spun at the maximum of 2 coins is not enhanced in any way.
Spectacular Wheel of Wealth – This 3 reel slot is one of only a tiny number of Microgaming titles on which a bonus game feature round can be won.
It is a fixed coin slot and you will have to play maximum bet spins to have any chance of being awarded the bonus feature round – which for reference is a wheel spinning bonus game. However, when playing maximum bet spins the game does return a high payout percentage over the long term at 96.32%.
Double Wammy – Another three reel slot game you may enjoy playing is Double Wammy, and if you do give it a whirl you will be pleased to know that the RTP is a healthy 96.23%.
Choose a stake, set the reels into motion, and hope you get a matching set of three reel symbols on the payline – that is all you need to do to win.
Fantastic 7's – If you opt to play the Fantastic 7's slot then be aware that even though there is just a single payline there is an enhanced payout when three coins are played per spin.
The jackpot you can win is 500 coins for a single coin jackpot win, 1000 coins for a two coin jackpot win, and the enhanced jackpot is worth 2500 coins for a three coin win. By playing 3 coins per spin, not only is that enhanced jackpot on offer, but the long-term expected RTP will become the largest one on offer at 95.93%.
Break Da Bank – The trick to playing Break da Bank is to always set all five of its available paylines into play.
By doing so you will not only benefit from the high 95.75% RTP this slot game offers but you can also win one of five jackpots. These increase in value depending on which payline the jackpot symbols spin in on, with the payout for the fifth payline being enhanced.
Legacy – The Legacy slot is one of Microgaming's most recent 3 reel titles, and even though it was launched a number of years ago it is still one of their better-paying slots in this category.
You can play for different stake levels so the game suits all budgets and the long-term expected payout percentage is high at 95.75%.
Cash Crazy – You can play Cash Crazy for one or two coins per spin. When playing a single coin the jackpot on offer is 800 coins, which will become 1600 coins when two coins are set into play and the jackpot symbols all spin in on the single payline.
The long-term payout percentage of this classic slot game – which also boasts multiplier wild symbols – is 95.58%.
Double Magic – Thanks to a bonus wild multiplier symbol that can increase your winning payouts, the payout percentage of Double Magic is 95.58%.
You can play one or two coins per spin, however, there is no noticeable difference with regards to any of the payouts other than you win twice as much when playing two coins per spin as opposed to one.
Fortune Cookie – This Asia themed slot is the last on the list but comes with a payout percentage no smaller than the two above.
When playing this slot for free or for real money the RTP which it has been verified as playing out to is a respectable 95.58%.