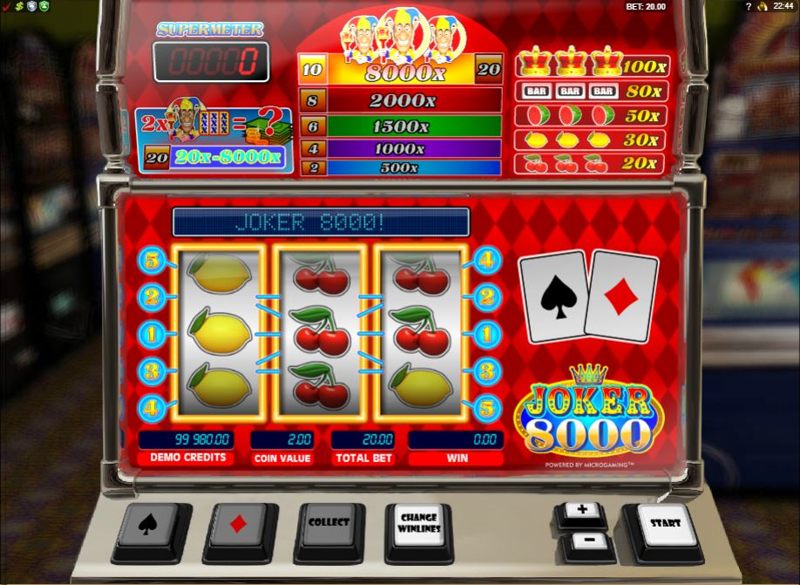 You should not play the online fruit machines if you want a laid back and relaxing slot playing session, for it is a well known fact that due to their design, fruit machines are high action slots that require a lot of interaction.
Fruit Machines are structured completely differently to all other online slot machines, and because of this there is a tiny element of skill involved when playing them, even though they are games of chance. If you know how to use bonus features such as nudges, holds, and skill shot bonus rounds, then you could have a slightly increased chance of winning.
Top Ten Fruit Machines in Order of RTP's
The most important aspect of any online fruit machine is the payout percentage that it has been designed to play and payout to. Below, we have listed the top ten Microgaming fruit machines based on their verified and published long-term expected payout percentages.
Top Two
Fruit Bingo – Currently, you are not going to find a higher paying Microgaming fruit machine than Fruit Bingo. If you want the very best chance of a good return and nothing else matters to you, this is the one to go for.
This slot offers the usual nudge features but what makes it a massively playable AWP is its high 96.69% RTP.
Spooks and Ladders – This Fruit Machine will reward you with a snakes and ladders based bonus game whenever a winning combination spins in on the base game.
The RTP of this AWP is 96.60%, and the aim of the bonus game is to climb the bonus board as high as you can with each roll of the dice – then bag the biggest payouts.
The Rest
You are going to notice something the remaining fruit machines have in common, and that is that they all boast a payout percentage of 96.50%.
This does appear to be the general setting for the vast majority of Microgaming's AWP and fruit machine games and therefore there isn't a lot between them.
Billion Dollar Gran –  While playing Billion Dollar Gran you will win a set of win spins whenever a matching set of reel symbols spin in.
The reel symbols that line up will give you a different number of spins on a bonus game during which each spin is guaranteed to payout something.
Bingo Bango Boom! – Bingo Bango Boom is a fruit machine boasting a number trail which you need to complete by getting a set of numbers to spin in on the win line.
When you do, you then get to play a Bingo themed game during which several different bonus features will be awarded to you.
Cash n Curry – During this one, a row of curry pots needs to spin in for you to get access to the main bonus game.
When this happens you are going to have to spin a number reel, and whatever number you land on will be the number of spaces you move around the bonus board. Upon that bonus board are a series of different bonus features and cash awards that you could land on.
Cops and Robbers – A base game jackpot worth some 500 coins awaits when playing Cops and Robbers.
However, if you spin in three Scatter symbols on the base game then you are instantly transferred onto the bonus board game, where you need to keep one step ahead of the chasing Copper to amass larger winning payouts as you progress up the bonus board.
Doggy Reel Bingo – As the name of this game suggests, it is themed around the game of Bingo and does happen to feature one or two dogs, as well. The base and bonus game features are high frequency and as such, you should trigger them often whilst playing this game online.
This Doggy Reel Bingo game, like all others listed in this section of our website, can be played for free at any Microgaming powered site if you want to give it a test drive.
Fruit Smoothies – You are going to find all of the usual base game features attached to the Fruit Smoothies slot, so you could be awarded holds and nudges to help you hopefully complete winning combinations.
However, this AWP is another which awards win spins instead of cash when you land winning combinations. These win spins all play out on a separate bonus game screen, and of course, each spin awarded will be a winning one.
Gold Mine – One of the more classic types of fruit machines at Microgaming powered casino sites is the Gold Mine slot.
This game comes with its own set of bonus game features and also has a bonus jackpot meter showing a cash prize which keeps on growing the more you play this game.
Joker 8000 – Another fruit machine with the standard RTP of 96.50% but one which gives you the chance to win one of the highest jackpots on offer, is the Joker 8000 game – so called because there is an 8000 coin jackpot up for grabs whenever you set its reels into play.
To give players an added chance of winning they can opt to play a double or nothing gamble game whenever a winning combination has been awarded.